The Minor Sixth Chord Explained
Minor 6th chords have quite a dark quality to them. The minor 6 chord is essentially a minor triad with a 6th degree of its scale added to it. So in the case of C minor the triad would be C Eb G and an added sixth would be A. (It is the same notes as Am7(b5) or A half diminished but inverted). The simplest way to look at the minor 6th chord on the fretboard is to visualize a major 6th chord and then make the chord minor by flattening the 3rd, like this:
C major6 (6th string root)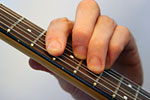 Cminor6 (6th string root)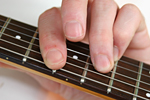 All you are doing is simply removing your second finger. Now, this is not the best voicing for the minor 6th chord (and you might also confuse it with F7). So here are two better movable voicings of the minor 6th chord:
Cm6 (6th string root)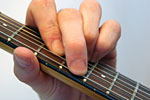 Cm6
(5th string root)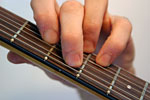 ---
Free online jazz guitar lessons for beginners, intermediates and advanced.

Online jazz guitar instruction from recording artist Chris Standring

Join The Inside Track membership and get access to all Chris Standring's guitar instructional programs, all in one place.