Play What You Hear Volume One
Level 2 & 3:
Play What You Hear Volume 1
By Chris Standring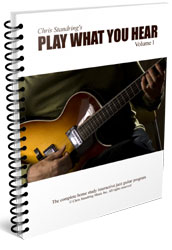 From intermediate to advanced level, this highly acclaimed course teaches you how to "play what you hear". You will learn the jazz vocabulary and understand how to improvise using this vocab over many different harmonies. You will learn to hear major, melodic minor and blues scales and learn harmony and how to see it all very simply on the fretboard. Over 300 audio examples and tons of play along tracks.

"By far the most innovative and effective ear training program for guitarists I have seen! Simply the best learning method to come along since Jamie Abersold. Chris has hit on something really good and much needed today Players of my generation learned to play on the bandstand as we were forced to "play what we heard" and if we didn't, we had to get it together pretty darn quick. This course will help speed up that learning process rapidly. I will recommend this course to my students highly!" - Ron Eschete Concord Recording artist and educator
Play What You Hear Volume Two
Level 2 & 3:
Play What You Hear Volume 2
By Chris Standring





From intermediate to advanced level, PWYH volume two takes you into the stratosphere with new concepts and ideas all presented in high resolution. Part one focuses on single string improv. part two focuses on chord melody and harmonic superimposition. Part three features six jazz guitar solos performed by Chris Standring. Every note transcribed in traditional notation and TAB. Every example is shown with video and audio.
---
Free online jazz guitar lessons for beginners, intermediates and advanced.

Online jazz guitar instruction from recording artist Chris Standring

Join The Inside Track membership and get access to all Chris Standring's guitar instructional programs, all in one place.